Entrance Landscaping - a community collaboration.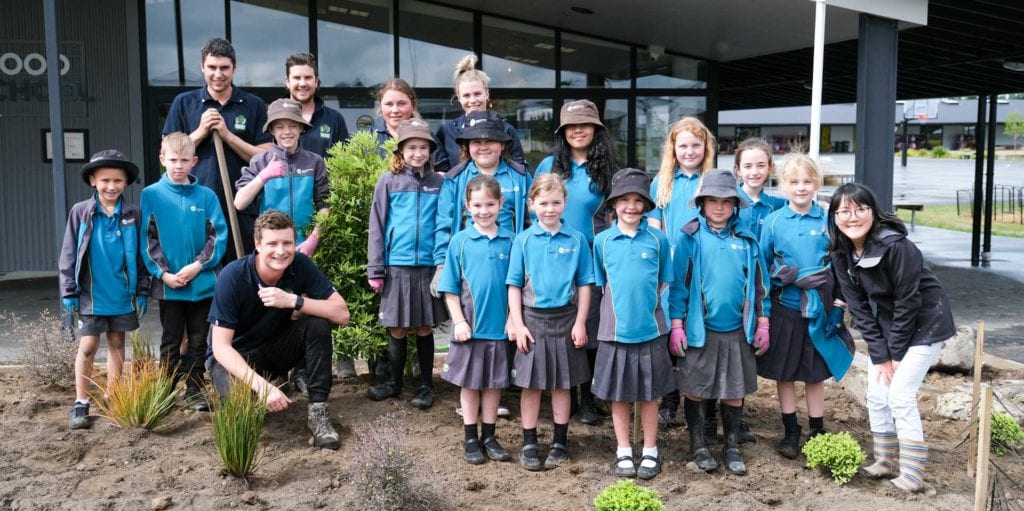 The planting came about when one of our regular customers approached Southern Woods about designing and supplying a few plants into the entrance of her grandchildren's newly constructed school in Rolleston, Lemonwood Grove – Te Uru Tarata. The initial landscaping budget had been spent, and all involved were keen to bring a bit of greenery to the urban sprawl of Rolleston.
Southern Woods worked closely with Lemonwood Grove principal Sean Bailey, to come up with a brief for the project. After a few meetings with the teachers and students, a concept plan was developed. We put together a plant palette that could handle the conditions of the Canterbury plains, as well as a small rain garden and a literal grove of Lemonwoods. Larger specimen trees were chosen to frame the area.
Working with landscaper Aaron at The Outdoor Space, we boxed the beds, imported soil, installed irrigation, and planted over 500 trees & shrubs. The planting was a fantastic experience with students, teachers, and the Southern Woods Values Group all pitching in to transform the entrance in a morning.